This Labor Day weekend, Chopper and Mather will be hitting the road as the Heathen Apostles Duo for another set of tour dates in Moorpark and Solvang. Friday night, they will be joined by Medicine Hat at Lucky Fools Pub, and will be playing two sets at Sort this Out Cellars in Solvang the next night. If you're local to either city, come out and show your support- both shows are FREE!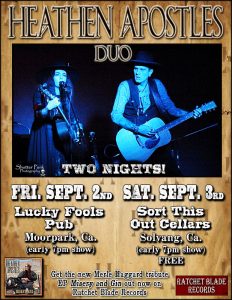 ---
The Heathen Apostles will be making a special appearance this Thursday, August 18th at the legendary (and recently remodeled) Clifton's in Downtown Los Angeles.
This time, they will be playing 3 sets bluegrass-style (no drums) starting at 9pm, and will be performing their takes on classic tunes as well as acoustic versions of original songs. The best part is, there's NO COVER for the evening, so come and explore, and pick up an album or t shirt to show your support for the band!
---