Earlier this year, Mather had the pleasure of modeling in a ethereal bridal editorial entitled "Age of Discovery", shooting at the luxurious US Grant Hotel in San Diego with a fantastic dream team of creative individuals. The editorial is now live on the San Diego Weddings website- much thanks to all involved for their time and efforts!
View the full editorial HERE.
---
Recently, Mather had the pleasure of once again collaborating with Cheryl Walsh and Alta DeKoven on another underwater shoot. This time, Mather paid homage to her Czech heritage and its incredible Firebird myth, lovingly designing the couture robe she is wearing from scratch. The image is called "Pták Ohnivák", and is dedicated to the memory of her grandmother.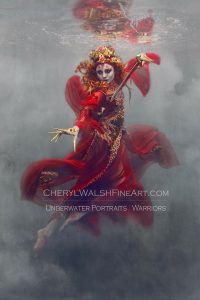 Photo: Cheryl Walsh
Makeup: Alta DeKoven
Firebird robe/styling: Mather Louth for CADAVER COUTURE
With very special thanks to Todd Walsh for safety!
---